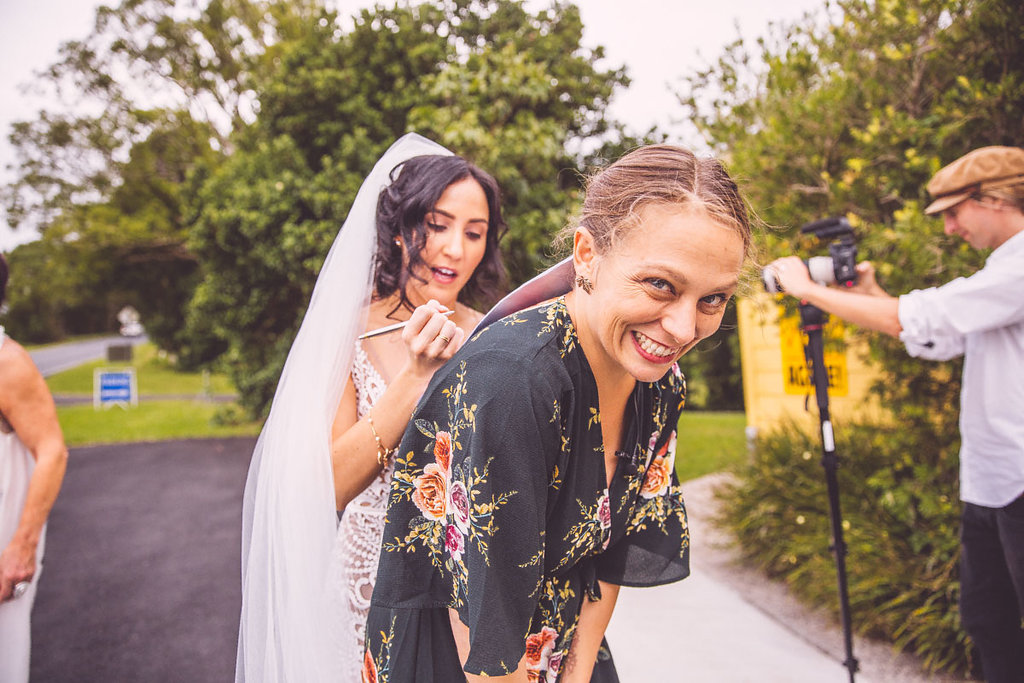 "Beautiful Cara,
It's such a cliche but words can't come close to describing how much it meant to us to have you at the helm of our lovefest celebration.
It wasn't just the thoughtfulness and guidance you gave us when we didn't have a clue what to do, it wasn't just the colourful dress you picked out and rocked to suit our bright theme, it wasn't just the humour and spontaneity you bring (the ducks! Genius!).
It wasn't just the fab ideas you came up with, to work around our legal trickiness without losing the special and momentous feeling. It wasn't even the warmth and friendliness you brought to our ceremony – and dance floor! It's more than that – there is something about you that radiates everything positive and loving and joyous about how marriage, and a wedding, should be.
Thank you for making our day exactly how we wanted it, without us ever being able to express what we wanted. You are the modernest, loveliest celebrant I've ever met, and there is something very special about you! You are magic. xxx"
SOPHIE AND CARA
"From the absolute bottoms of our hearts, CARA, THANK YOU !!! People always say your wedding day is the best day of your life... and we knew they were right but we want you to know you were a huge part of that.
Having attended so many weddings this past few years together, we came to truly realise what an integral part of the the ceremony it is to have a celebrant you can really connect with. You have a true gift and ability to get to know your clients/us in a short span of time and understand their/our relationship. You had everyone in tears, laughing, connecting the entire ceremony and made us feel loved and honoured.
So thank you again and again for sharing your gift with us. We can't wait to share a Rose with you when our country gets with the times and legalises our love to formally sign that bit of paper :-) Lots of love
Mrs & Mrs Carter
xxx"
CHRIS AND DAVE
We were so delighted to have Cara as part of our wedding. From the moment we met her we connected and felt her loving and warm nature. We knew instantly that she would be perfect for us.
Cara went above and beyond to guide us through the official side of our special day; making it easy, fun and memorable for us and our guests. She made a lot of effort to personalise the ceremony to match our needs and personalities.
All of our guests commented on how wonderful and warm Cara is and how amazingly she delivered our ceremony.
I can not recommend Cara highly enough if you are considering her to help you with your wedding.
She really will start your wedding off right!
Cara, we wish you the best of luck as your business grows and thanks you once again for making our day extra special.
Love
Chris and Dave
"Dear Cara!
Tanya and I just wanted to say what an absolutely wonderful wedding experience we had with you as our celebrant. From the first time we met you, all the way through to the big day on the beach, you made the whole experience feel so fun, easy and happy! Which is exactly the way it should be! Nothing seemed like a stress at all and you were able to walk us through everything we needed to do. In fact, by the time our big day came around, having you there and a part of our day felt like we had another friend there more than anything else (even helping out with the rehearsal surprise)!
We would definitely recommend to anyone out there who is looking for a Celebrant to look no further than Cara! Her approach to weddings/ceremonies is fantastic and you basically don't have to worry about anything. Just turn up to get married and Cara wall take care of the rest!
Happy Weddings!
Tom & Tanya"
CHARIS AND KANE
"We always wondered what it would feel like having a stranger marry you. What it was like to pick a celebrant and how they would fit into the gestalt of our love. On Monday 14 March we found out. Having stumbled across Cara on Instagram we were drawn to her bright sensibility of love. We were lucky enough not only to have Cara marry us but her husband Phil document it (in the most beautiful way) and her dear friend Sue Ellen look after our 18 month old son while we exchanged vows. Cara had the skill to allow our day to pan out naturally and authentically without interfering with the natural flow of energy of the day. We could not recommend her highly enough. We found out, our celebrant, Cara, didn't feel like a stranger at all but someone that understood us."
ALLISA AND DAVE
"Cara has the gift to work whole hearted and professionally at the same time, we have had numerous guests tell us their favourite part of our wedding was our ceremony (and our reception was awesome so this says ALOT!!!!) What an amazing human to share such an integral and important part of your life with......Thank you Cara, you truly were amazing through all of it, I want to do it again!!! xxxxx "
TATUM AND FLETCHER
To dear dear Cara - thank you SO MUCH for marrying us yesterday! It was the most incredible and emotional ceremony. We just loved every single second. You did such an amazing job - we felt it was exactly "us". So beautiful and raw. Thank you so much again from the bottom of our hearts - we are beyond grateful!!! xxx
STEPH AND KRIS
Dear Cara,
Thank you from the bottom of our hearts for officiating our marriage back in March.
Your warmth and vitality radiated throughout the ceremony
and you made our special moment so personal and great!
We had so many compliments given to us about our wonderful celebrant.
We're so glad we stumbled across you a year ago in Byron!
Best wishes into the future and we hope to see you again at some point.
Love Steph and Kris McMurdy xx
LAUREN AND LEE
We cannot thank you enough for your contribution to making our wedding perfect.
Everyone has commented on how lovely and genuine you were and a few people even thought that you must have been an old friend of ours as you put so much love into the ceremony!
The whole day was just filled with so much love and joy.
RIKKI AND NOODLE
Thank you Cara for being such a joyful and kind-hearted woman, it just shined out of you every time we spoke and it's what makes you the most perfect celebrant.
We had so many comments about our ceremony and how romantic, personal and laid back it was and we have you to thank for it.
We couldn't be more happy with your work Cara, you really are a gem!
X Rikki and Noodle
JO AND TIM
"Oh I don't know where to start... We absolutely love you!!!!
Thank you for making our ceremony so personal to us and engaging for all our special guests!
Sooo many commented on how they loved the way you told our story first as for some they had never heard how it all began.
Thanks again!!! Love Jo &Timmy xxxx"